Why?
Peer to peer tutoring is a cost effective way of improving reading ages of children. According to Education Endowment foundation, it can approximately add five additional months progress. Studies have identified benefits for both tutors and tutees.
What?
Seven children from Year 5 partnered with seven children from Year 3, taking ability and personality into account. Each of the children who participated were given a reading test before and after the reading project, to measure impact.All Year 5 tutors were given a folder with a paired reading log; a five finger test reminder and a selection of questions.The children read together for 30 minutes, twice a week for a period of six weeks.
Date

Action

Wk beg. 22/4/19

All children in Y3 and Y5 will have a reading test.

Wk. beg. 29/4/19

Training of tutees will take place.

Wk.beg. 6/5/19

Training complete.

Wk. beg.13/5/19

Peer to peer reading tutoring to begin 2x 30 mins per week

for 6 weeks.

Wk. beg. 1/7/19

6 week reading period ends (including 1 week for ½ term)

Wk. beg. 8/7/19

All children in Y3 and Y5 will be re-tested
Impact:
Teachers were given an evaluation questionnaire to fill in on each child at the end of the project: most children had increased their confidence, comprehension, interest, fluency, accuracy and pacing. Data was only a comparison of a reading test before and after the reading project and therefore needs to be viewed with some caution. Furthermore, the Year 5 children had just started READING PLUS which may have influenced their data. However the enjoyment and increased confidence, better fluency and comprehension reported by teachers is somewhat encouraging. Also the children themselves, they enjoyed it and felt it had helped them improve.
Feedback:
Responses from tutors, who filled in a questionnaire about their tutees:

The tutees filled in a questionnaire about their experience: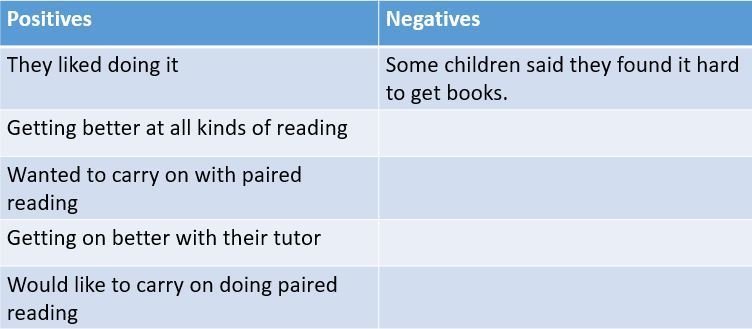 Evaluation:
As a project I would definitely do it again as the children gained a lot from it.The time limit of 6 weeks, twice per week was good as it meant the children didn't get too bored and it left them wanting more.I would maybe extend it to include more children – maybe the whole year group and also try different projects e.g. Maths.